David O. Oyedepo is a Nigerian preacher, Christian author, businessman, architect and the founder and presiding Bishop of the megachurch Faith Tabernacle in Ota, Ogun State, Nigeria, and Living Faith Church Worldwide, also known as Winners' Chapel International
He is arguably the richest,most powerful and most influential pastor in Nigeria as He is known to always speak out on whatever he believes is not being done the right way,and also his powerful prophecies and declarations are something that no one can actually be compared to his because of the efficacy in those prophecies and declarations.
He is known to always release powerful prophecies every Sunday during his service at faith tabernacle and he has also released some very powerful ones today.
He said that'Every gang up against your destiny is crushed today,Within 24 hours you will hear news that will change your story.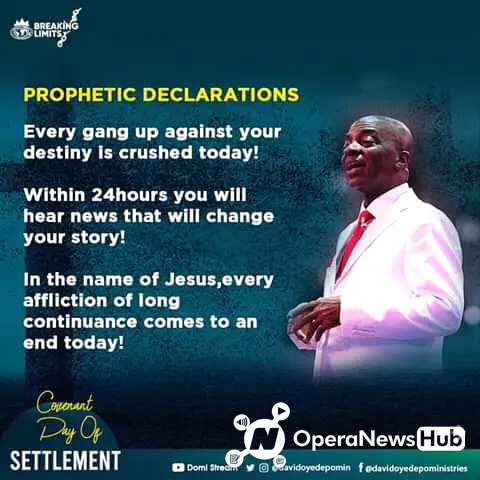 He continued by saying,In the name of Jesus,every affliction of long continuance comes to an end today,I decree your supernatural settlement,I decree your home,career and children settled,I decree peace be still to every storm in your life and By the communion of today, you shall begin to live like Christ.
Furthermore,All round rest in your career,family shall be your new portion,Every everlasting mountain clears the way right now,I decree your all round settlement today,Any uproar in every family is over today,I decree the settlement of your sons/daughters in marriage and finally,Within an hour testimonies shall arrive at your door!' – Bishop David Oyedepo
He also gave out some words of wisdom in the pictures below.
CWhat a powerful declaration from such powerful Man of God,We hope that the above prophecies and declarations comes to pass in our lives.